PikeOS and ELinOS in Automotive
Human Machine Interface (HMI)
Rightware's powerful Automotive-centric HMI engine Kanzi, running on SYSGO's safe and secure RTOS and Hypervisor PikeOS, enables embedded software developers to create groundbreaking graphical solutions. PikeOS' architectural design allows safe separation of both, critical and non-critical, applications at the same time on the same hardware. Together, these technologies open the gates for applications such as the safe presentation of sensor data like distance between automobiles running parallelly to non-critical applications such as music streaming services.
Applications are safely and securely separated into partitions which can't interfere with each other. Safety-critical partitions run flawlessly together with non-critical partitions such as Android or Linux. The exact state of advanced driver-assistance systems can be visualized with real-time 3D graphics in the cockpit. PikeOS ensures the certifiable, safe and secure execution of applications where reliability needs to be flawless. Integration efforts spare hardware resources while leveraging Automotive systems to the next level in terms of user experience, Safety and Security.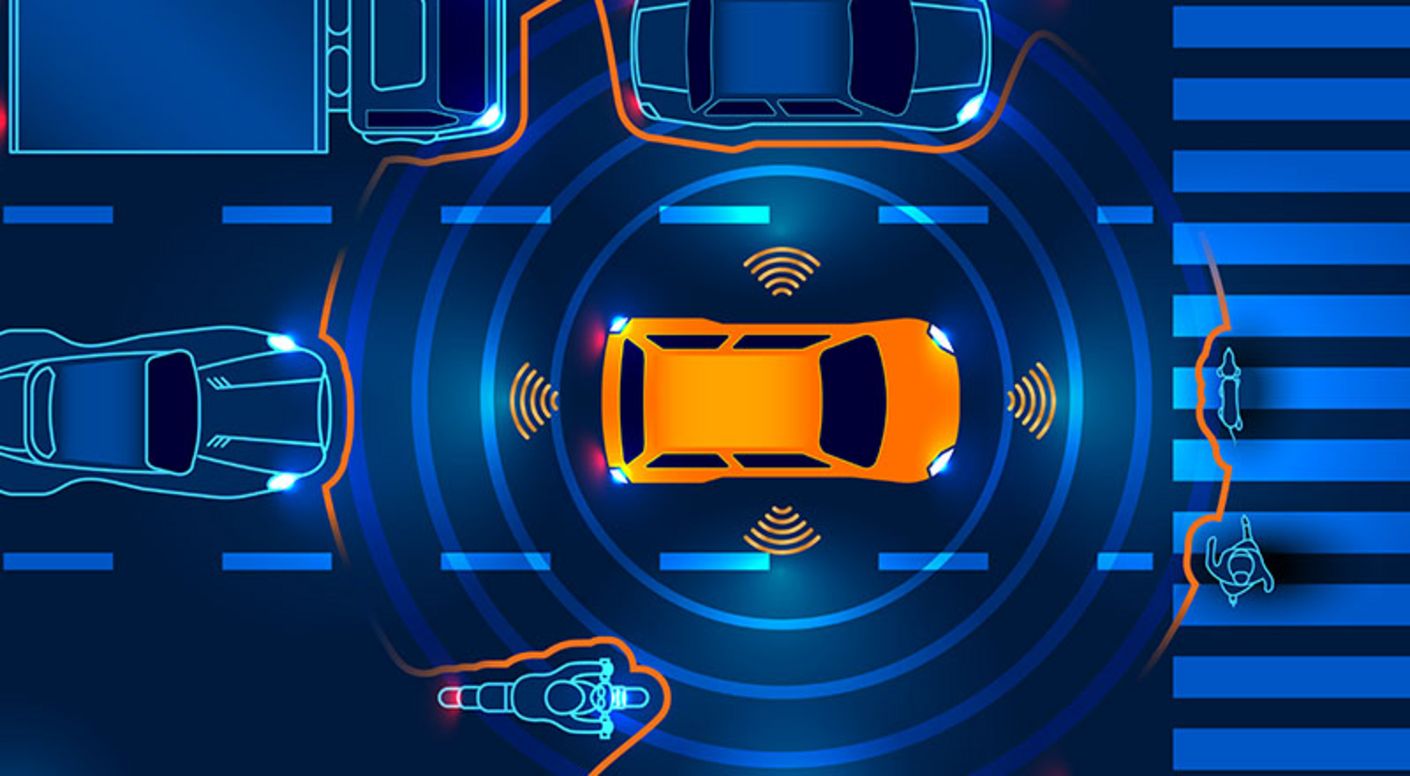 Advanced Driver Assistance Systems (ADAS)
Flexibility and scalability are the most prominent needs for Advanced Driver Assistance Systems (ADAS) platforms. The requirement of being pre-certified up to the highest assurance level according to ISO 26262 is self-evident. Future ADAS platforms will require robust separation of applications to run in a safe and secure manner, as well as meeting Safety & Security standards applicable for the Automotive industry.
Learn more (PDF)
Next Generation Platform combines Robotics, AI, and Real-Time with Automotive Certification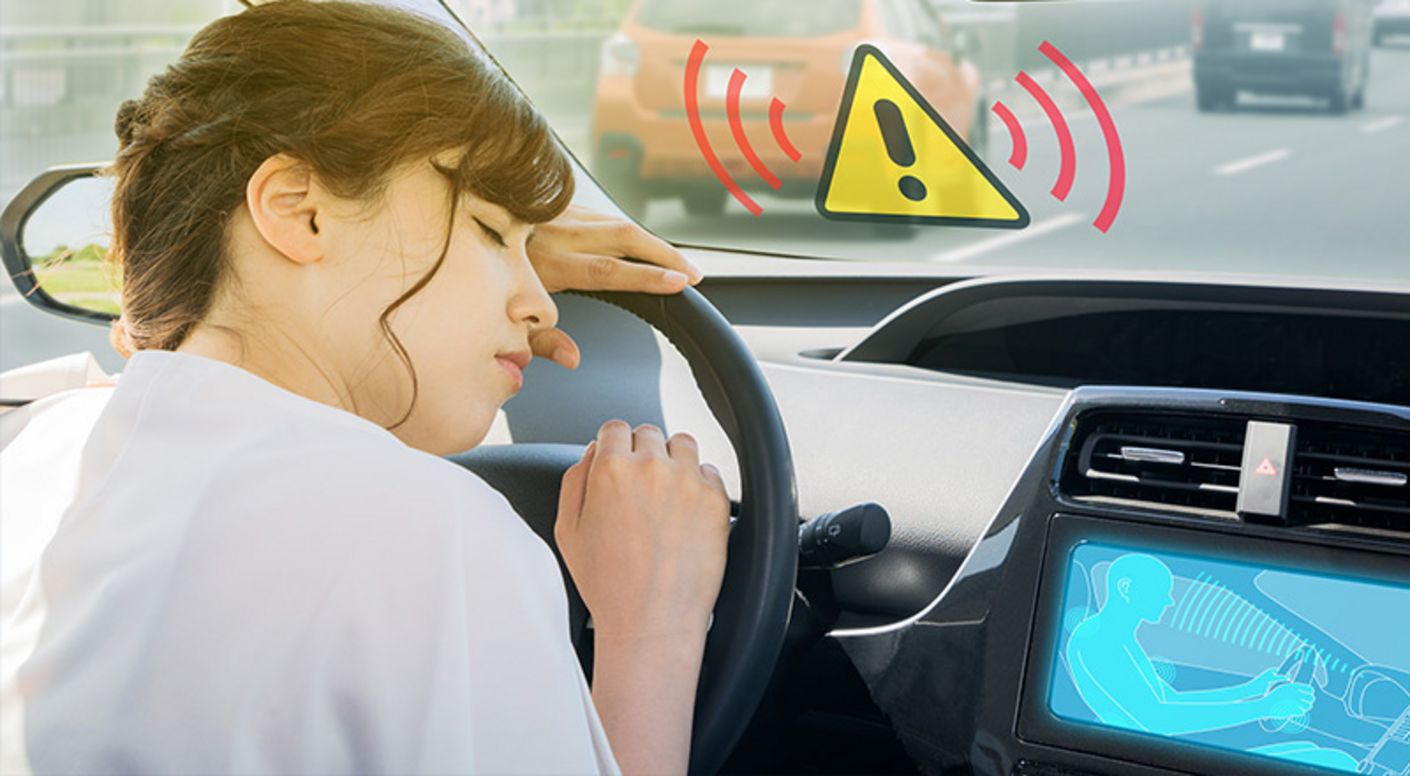 Driver Monitoring System (DMS)
A DMS is a Safety functionality that continuously checks the driver's attention towards the road and the steering controls of the car. It addresses the driver's state of distraction, inattention or even sleepiness. In case the system detects the inability of the driver to cope with unexpected and sudden road events, it reacts with consecutive stages. As a consequence, the development of a DMS must follow high Safety certification standards and requirements to the underlying operating system.
Learn more (PDF)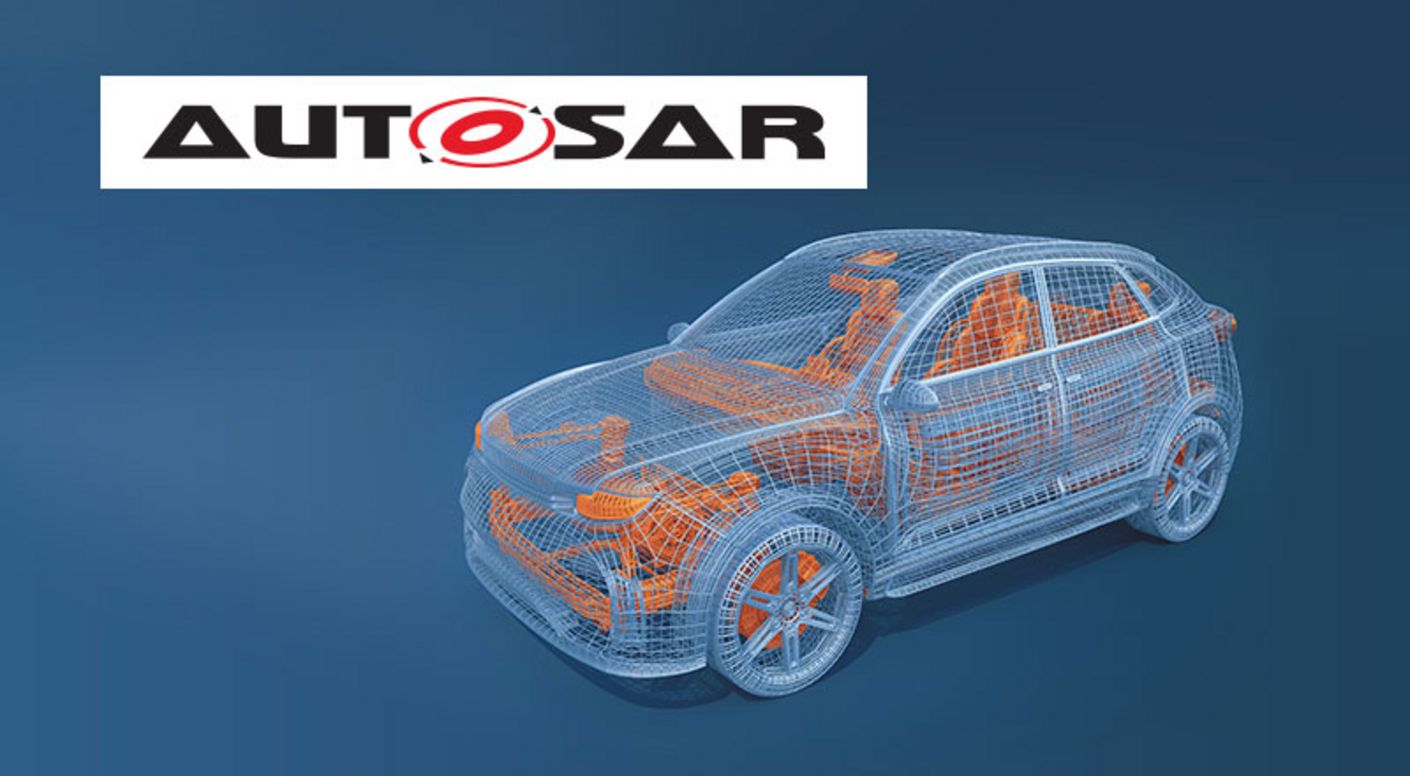 AUTOSAR Adaptive
AUTOSAR Adaptive is a standard run-time environment that is getting more and more attraction for Automotive ECUs. The aim of this standard is to provide a flexible run-time environment enabling to bridge the gap between AUTOSAR Classic (hard real-time but limited in features) and rich OS such as Linux (rich feature set but not real-time). AUTOSAR Adaptive is designed to run on high-end ECUs with real-time requirements but not as demanding as AUTOSAR Classic from a deterministic point of view. AUTOSAR Adaptive opens a lot of opportunities. However, one of the key points regarding future use cases will be the capabilities to run on the same ECU next to AUTOSAR Adaptive and other applications with different Safety and/or real-time requirements. This will facilitate the design of next generation ECUs such as domain controllers by offering additional flexibility.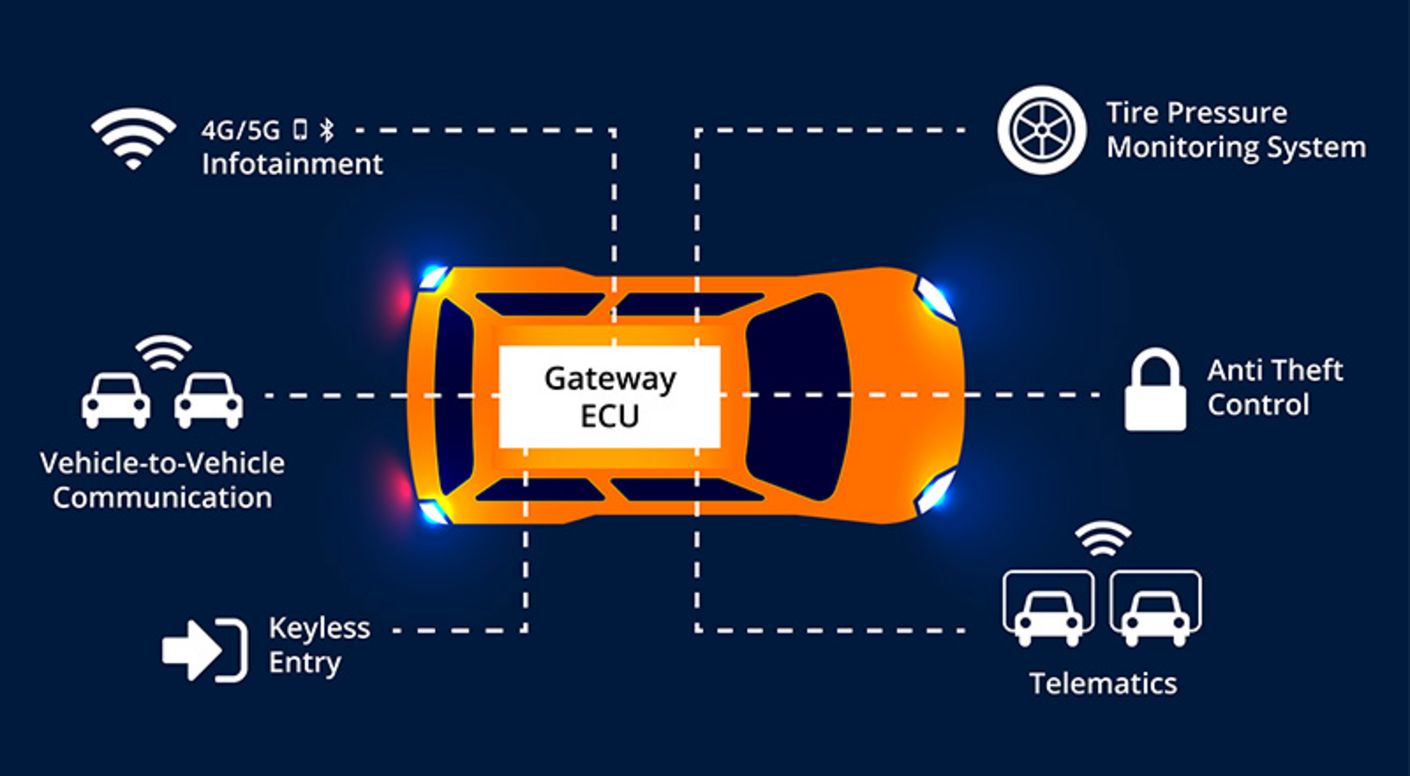 Connectivity Gateway
Today's vehicles are more and more connected and the car is more and more getting an edge device in the cloud. Connectivity is required by many different actors and some connectivity requirements are related to the user, such as being able to access mobile apps when driving. Some evolutions are pushed by the industry like accessing vehicle information remotely in order to improve predictive maintenance. Other evolutions are related to new business models such as car renting with your phone in order to open the car and start driving. Connectivity in today's and future vehicles offer larger attack surfaces and brings new Security challenges in order to protect two major objectives: Data privacy and personel Safety.
Learn more (PDF)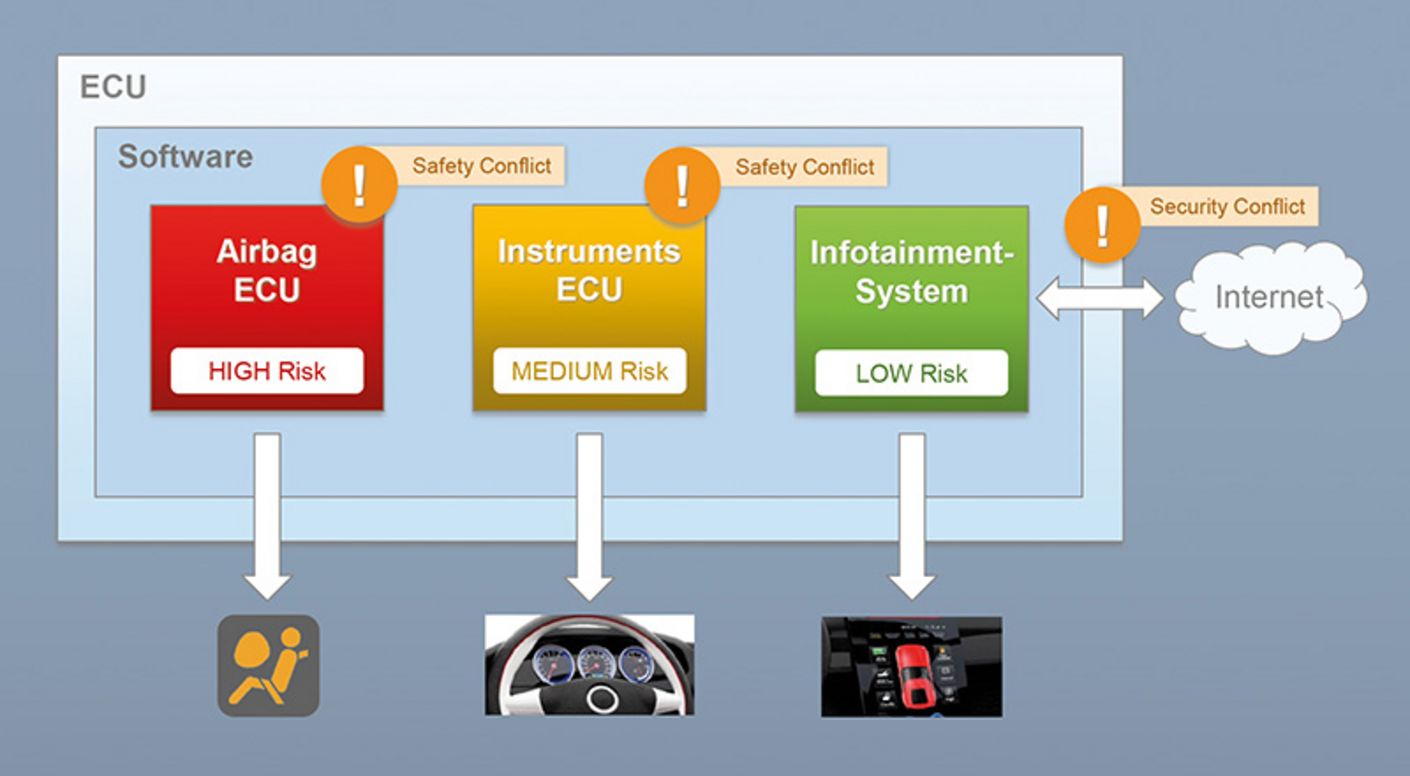 ECU Virtualization / Consolidation
Driver display systems (or screen boards) are becoming more and more complex, while the integration of highly critical components with commodity functions become more common. This trend will continue, leading to configurable multi-function displays (MFDs), This requires the execution of Safety-critical user interface (UI) components, which have to be certified, side-by-side with feature-rich non-critical commodity UI applications often driven by Linux or Android. These commodity applications require the use of software standard components, while focusing on a sophisticated UI representation (e.g. through 2D/3D acceleration and rendering through hardware). However, Safety-critical UI components will focus on a leaner approach in order to reduce risks and cost of the certification while using a pre-certified UI framework.
Still a car network stack needs to come up below 100 msec which cannot be fulfilled by a Linux software stack.
Learn more (PDF)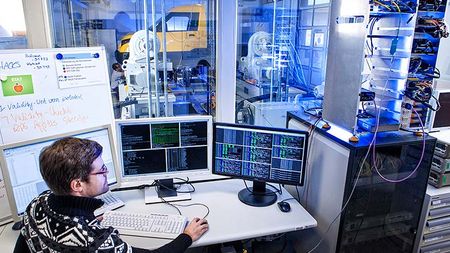 Siemens chooses PikeOS Hypervisor for Electric Cars
Siemens has chosen the PikeOS Hypervisor for its new electronics and software platform for electric cars. As seen in aviation technology, standardized hardware and software modules provide the basis for a unified computing architecture that can replace function-specific controller modules (ECUs). The PikeOS Hypervisor serves as the backbone of the software architecture. As a virtualization platform with hard real-time characteristics, PikeOS enables a predefined set of functions according to the plug-and-play principle. The new platform provides plenty of scope for individual product bundling. The first customer to make use of these advantages is Deutsche Post subsidiary StreetScooter from Aachen.
Automotive Software Innovation
Technologies such as Advanced Driver Assistance Systems (ADAS), In-Vehicle Infotainment (IVI), Over-The-Air (OTA) updates, Driver Monitoring System (DMS) and autonomous driving need a robust, lean and performant operating system. We address the needs of these technologies and those yet to invent with our robust, safe and secure separation and virtualization approach with hard real-time capabilities.
Virtualization and hard real-time operations are ensured by our real-time operating system (RTOS) and type 1 hypervisor PikeOS. It allows safe and secure functional interaction of applications with mixed-criticality. Virtualization allows to manage complexity within Automotive software environment and lower maintenance efforts while being highly assured against cyber threats.
Automotive Guest OS
Because Automotive applications range from non-critical infotainment systems to highly critical control functions in the car, PikeOS accordingly provides a broad variety of guest operating systems: Our technology supports Android, AUTOSAR classic & adaptive, COVESA or AGL (via Linux), Linux, ELinOS, PikeOS Native, POSIX®.
Automotive Architectures (Single & Multi-Core)
ARM Cortex V7, V8 or Cortex R, M
Intel: x86
RISC-V
And many more
Functional Safety
We provide solutions that are comprehensibly and well manageably certifiable up to ISO 26262 ASIL D. In addition, embedded Automotive software also benefits from the very strict Safety pre-certification of our technology according to the DO-178 Avionics standard.
Security
The PikeOS separation kernel itself is small in terms of implementation and its little number of system calls allows comprehensive evaluation and validation. As a matter of fact, PikeOS 5.1.3 (x86 64-bit, ARMv8, PowerPC) has passed the Common Criteria EAL5+ certification.
SACoP
Secure Automotive Connectivity Platform
SYSGO's Automotive industry solution is a fully-integrated software framework to administrate and exchange data securely thus encompassing the increasing challenge of connected cars.
This platform can be used as foundation for a gateway development.
Reduced Complexity saves Weight, Energy, Space and Costs
PikeOS enables integration of a large number of electronic devices onto a single hardware platform.
Secure Communication protects Subsystems
Strict separation of applications into secure partitions allows authorized access only and avoids mutual interference.
Integrated Safety reduces Certification Cost
Applications of various levels of criticality and Security are separated from each other and can be certified separately.
Support for Automotive Standards meets Industry Needs
PikeOS supports AUTOSAR, CAN, AGL or COVESA
High Scalability and Hardware Independence secure Investment
PikeOS allows legacy code re-use and reduces system boot-up time.